Self-portrait with monkey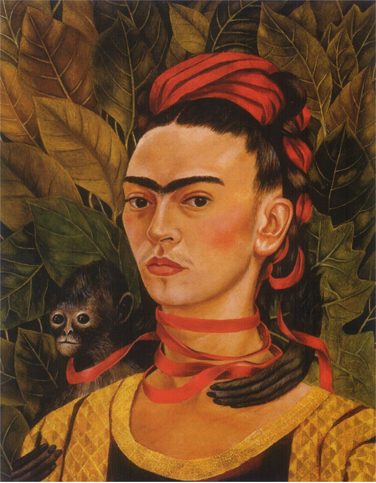 After the painting of the same title,
by Frida Kahlo (1907-1954)
The wings of her eyebrows invent
the flight of a seagull on her forehead.
In her eyes, dark lakes, there are remnants
of pains, fears, anxieties and nights.
Kahlo, with cuts that open in flesh,
leaving in sight the stream of blood,
braided here in the plait, a crimson root,
tangled in the vine of her hair.
The leaves bring green to the dark background,
a wall of the forest that did not survive –
the hands of the bush far from the mother-forest,
and the almost human hands of a monkey.
In his eyes the jungle still insists,
in the dense hiding place of the vulnerable.
Her eyes never dawn,
and in that night, her secret.